Melanie Crow is the SVP of Sales Enablement at Inova Payroll, a Tennessee-based company that provides HCM (human capital management) and payroll services to over 5,500 employers across the United States. Over the years, Inova has sought ways to fill the service void within the payroll industry by ensuring a superior customer experience.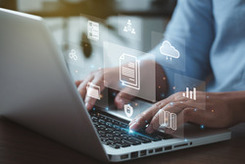 On Tuesday, November 22nd, Crow appeared as a guest panelist alongside Doug Wendt — CGO and co-founder of B2B growth solutions provider Wendt Partners — for an hour-long web event. Over the course of their conversation, Crow delved into Inova Payroll's customer relationship management (CRM) migration from Salesforce to HubSpot, and how her team discovered the long-term advantages of the HubSpot platform.
Read on to learn the key takeaways from this groundbreaking discussion.
A Complex, Scaling Sales Structure
The sales teams behind successful HCM providers face a daunting task: engaging prospects and helping them realize the necessity of a demanding payroll system switch. With so much on their plates and frequent opportunities to scale the business through acquisitions, Inova Payroll's complex sales organization needed a CRM to aid their daily operations, not stunt them.
Unmet Expectations with Salesforce
Like countless other organizations of their caliber, Inova invested time and capital in Salesforce with the expectation that the most popular CRM on the market would meet their needs — but mounting concerns necessitated a change.
"It was a difficult move to make," shares Crow, "because you've got the folks who like [the platform], but they're not actively using it. It's the users that make the difference."
Frequent problems that Inova Payroll's sales team members encountered while using Salesforce include:
Over-reliance on third-party applications for a wide variety of fundamental CRM functions — including generating sales reports — instead of being able to complete tasks quickly with native features.

Severe support issues, including a lack of U.S.-based Salesforce support staff. Because of time differences, issue resolution for small and large-scale problems would cycle for days before they went into any active response.

Time spent hiring and training a Salesforce administrator to "run the machine" was frequently wasted because these administrators would almost immediately be hired away.

Salesforce's complex and cobbled infrastructure meant support staff were too occupied with general administration to even think about optimizing the platform for further growth.
Making the Switch
Inova was already using HubSpot's Marketing Hub as their primary marketing platform.
With the help of Wendt Partners, their sales organization made the full switch to HubSpot in September 2021. In just one year, Inova's use cases for HubSpot have evolved several times, with two new acquisitions necessitating system changes — and each time, Wendt Partners has been able to optimize new HubSpot platform configurations to meet these needs. The partnership also enabled Inova to:
Work Natively
HubSpot prides itself on creating a system that's crafted, not cobbled. The Inova team no longer worries about endless third-party applications to complete essential CRM tasks.
"The solutions that we provide for clients are also a single database, so we create one place for truth," shares Crow. "HubSpot can do so many things within its own native modes, which helps us."
Unite Sales and Marketing
The switch to HubSpot didn't only improve Inova's sales system, but also the marketing team and the referral partner base. Any company literature, such as instructional documents and sales proposals, is also resident within HubSpot — so Inova is one step closer to reaching their goal of making HubSpot the go-to place for all sales and marketing functions.
Increase Data Quality
"The number one thing that's going to trip you up whenever you complete a migration isn't the actual migration," confirms Doug. "It's the inconsistent practices, the weak controls, and the poor data quality in your legacy system."
When it comes to managing duplicate data, Salesforce is not nearly as strict as HubSpot. With Wendt Partners, Inova worked to hone each account to avoid problems down the line, such as overwriting separate records.
An Ongoing Optimization Partnership
After a successful Salesforce to HubSpot migration, Wendt Partners has continued to find the best use case scenario within HubSpot for each of Inova Payroll's business needs (the most recent example being a configuration between PandaDoc and HubSpot to bundle documents for easy signing). Now, the Wendt Partners team is looking even further, at the overall structure of Inova Payroll's system, to answer a fundamental question: how can each element be baked into HubSpot as the core platform?
With strategic IT consulting and portal optimization services for HubSpot implementation, Wendt Partners is creating a roadmap to fine-tune Inova's enterprise architecture and ensure all systems contribute to overall data and process flow. Together, the two organizations will move forward on a journey of continuous system optimization so that Inova's core stack and HubSpot build will become even stronger and more efficient over time.
"It's going to mean so much to us to be able to define what we need, and then have someone come back and say, here's what we need to accomplish this for sales, for marketing,
for business development," says Crow. "Everybody's got their own ideas, and they use different pieces of the system. It's exciting to have somebody on board that's got that overall view of everything that's going on."
Join the Salesforce to HubSpot Migration Movement
Since its establishment in 2006, HubSpot has consistently proven its value as the #1 CRM technology for growth-driven B2B enterprises. Wendt Partners is proud to be the go-to partner for organizations looking to complete their Salesforce to HubSpot migration and to finally experience a straightforward, user-friendly, and scalable CRM platform.
Download "The B2B CEO's Guide to Migrating Your B2B Enterprise from Salesforce to HubSpot" to learn more about making this essential switch — and when you're ready, book a meeting with Doug to get started.