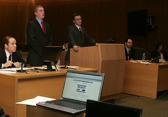 The legal services industry is in the midst of dramatic change. Major firms have experienced radical restructurings while others have disappeared entirely. The traditional partner/associate model is under fire from more nimble and flexible business models. Technology, offshoring for some services and a glut of new lawyers are creating a future talent crisis while undercutting margins in the short-term. The best way to respond to these challenges is to reposition and innovate with better strategies for firm growth. Working with a B2B business growth consultant, law firms can find new opportunities by focusing on these priorities:
Rethink Your Approach to Clients and Costs
In many circumstances, such as complex litigation, there are far too many factors to safely set a fixed price or, in some cases, even an estimate of overall time and expenses. By the same token, lots of other legal activities can be organized and packaged into fixed-price offerings or reasonable cost ranges. Most firms are hesitant to do this – and not all should – but regardless of your approach on pricing, the point is to respond to a confused and hesitant market with clarity and better client education.
Provide written summaries and guidance tools to help clients better understand their options. Create guidebooks and checklists that can allow your business clients to engage more proactively and effectively with your firm to manage legal services with increased efficiency and better results. You can sit and wait by the phone for clients to call, or you can educate and engage them.
Provide Proactive Guidance and Fractional Services
Most businesses that do not elect to hire in-house counsel are woefully undereducated about how to manage their legal affairs. Even MBAs with 25 years of experience may have dealt with legal issues only a few times – perhaps once during a contract dispute and again for an M&A due diligence process. Other than that, the executives you serve – the CEO and CFO primarily – need to be given clear guidance and blueprints for how to solve business problems with legal solutions.
Meet with clients on a twice-yearly or quarterly basis for un-billed review sessions; provide planning calendars for their legal priorities much as CPA firms do for tax season; and commit your associates to becoming educated in the full range of business issues facing clients in the industries you serve. Couple this with the option of fractional services – flipping from the call-me-when-ready, billable-as-applicable model to a present-as-scheduled, paid-for-accessibility one.
Marry Specialized Expertise with Content-Driven Marketing
The irony about attorneys and market outreach is that many lawyers are most comfortable presenting to other lawyers, and less adept at presenting to their actual target audiences. A commercial real estate attorney may be more likely to present to colleagues at the bar association than to investors and property owners. This cultural aversion to talking to those outside the profession is a major source of business risk for law firms.
The solution is to make a firm-wide commitment to business development, both in person and online. Establish an internal business development council and ensure that partners and associates all participate. Develop training and create speaking opportunities for your team to present to your client community, rather than primarily to other lawyers. And invest time in developing a blog and inbound marketing program that will educate the marketplace and generate interest and understanding among prospective future clients.
Proactive law firm leaders and their senior partners have the unique opportunity to drive growth and reposition their firms to better serve the marketplace. Partnering with a B2B business growth consultant will enable your firm to steer toward effective change and move the firm closer to your business objectives while maintaining a consistent strategic direction.

Image Credit: pslaw @ Flickr (Creative Commons)