As a CEO or senior executive leading a growth-stage or mid-market company, you're working diligently to move all aspects of the company forward -- from sales and marketing to operations and finance, and from product or service development to human capital and employee training. What ties all of these components together is the need to achieve new growth targets. So, how does a business growth consultant assist you identifying and pursuing new opportunities?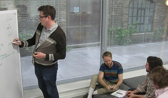 Within the business and management consulting sector, business growth consultants are specialists who focus on the top-line side of your company – the portion of your business that centers on increasing revenue through sales, marketing, strategy and leadership enhancements.
In order to identify key opportunities for you to increase top-line growth, a business growth consultant will consider one or more of the following:
Analysis of your industry and total available market (TAM)
Examination of your current business strategy

Strategic benchmarking

Review of your brand, market positioning and differentiation model

Competitor analysis

Research with your customers such as surveys, interviews and focus groups
Opportunity review and qualification
Examination of your current business partners
Capacity-to-execute analysis
Research on adjacent markets and market segments
Consideration of M&A options and strategies
Review of sales lead generation methods
Assessment of the product and service mix
At Wendt Partners, our approach enables clients to begin in one of two ways. A complete strategic growth analysis can incorporate a full review of all four essential focus areas within your business, or we can perform a segment-specific review for one or more focus areas of your choice.
Our unique focus area model allows CEOs to examine and understand how they can drive specific strategic and tactical improvements in one or more areas of business execution, while still gaining the benefit of an integrated approach should they decide to expand the engagement in the future.
This is a powerful distinctive of the Wendt Partners approach, and enables our consultants to meet clients where they are – taking a holistic approach regardless, but delivering value whether on an end-to-end basis, or on a focus area-specific one. The four focus areas we address are:
To learn more about how identifying new opportunities can fuel growth for your company, download our free 64-page executive's guide to B2B business growth:


Image Credit: PhilWh @ Flickr (Creative Commons)