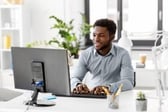 When it comes to managing deal flow in the B2B landscape, your sales team members have a lot on their plate. Making smart choices about how to manage the sales pipeline and drive it forward is important to continued success.
What role does CRM technology contribute to the wider picture of a functional sales process that continuously attracts and turns valuable prospects into closed deals?
On Tuesday, October 25th, Chief Growth Officer and Co-founder of Wendt Partners Doug Wendt met with Dailey Tipton, Senior Vice President of Ndustrial — a groundbreaking industrial intelligence platform that gives companies unique insight into their energy expenditures — for an exclusive live web event. Their conversation yielded valuable insights into CRM technology's importance to improved revenue and growth results.
Read on to learn the major highlights from this informative event.
A Valuable Sales Career Retrospective
Ndustrial represents the culmination of Dailey Tipton's years of experience leading sales teams as both his fifth startup leadership role and a market disruptor with huge potential for many industries. Over the course of his career, Tipton has refined his sales process to a T — so much so that it can be represented in a simple 5-step plan: Prospect, Present, Proposal, Close, and Repeat (P-P-P-C-R). Tipton also reinforces essential sales engagement practices within his teams, like establishing an upfront contract and never ending a meeting without the next one scheduled. All of these effective methods are also hallmarks of the HubSpot CRM technology.
Adapt to Your Industry and Use Cases
After years of implementing the massive and cumbersome Salesforce package with other companies, HubSpot's intuitive platform was a game changer for Tipton and Ndustrial. "it's a great tool," says Tipton, "because it allows you to create as big or as small a process as your company needs."
Before Tipton delved into Ndustrial's customized deal flow, Doug Wendt provided a tour of the Wendt Partners HubSpot CRM sales pipeline to share some of its most essential and highly-adaptable features:
Deal stages give team members the ability to visualize where each client is positioned at each step in the defined sales process.
Custom fields are established according to your specific pipeline needs — which can (and should) be consistently updated as the pipeline evolves with the business.
Gate checks prevent users from moving on to the next steps before completing essential client-facing tasks. For example, Wendt Partners reps must assign a Client Success Specialist to each prospect before they even begin the rest of the sales process to ensure that all of their needs are met by a trained expert at each stage.
Such highly-adaptable CRM capabilities create the opportunity for a mutual action plan to be created entirely within HubSpot. By being able to document the timeline of the client's decision process and the steps that they've taken, any sales team can establish an upfront contract to which they can hold prospects accountable.
"The pipeline is built not only as a decision support but also as a process review tool," remarks Wendt. "It's essentially project managing the decision process, which I think adds enormous value."
Ndustrial's CRM-Powered Process
Ndustrial has successfully implemented their P-P-P-C-R process into a HubSpot CRM pipeline that drives deal flow from initial qualification to close, using several key strategies:
Ndustrial has successfully implemented their P-P-P-C-R process into a HubSpot CRM pipeline that drives deal flow from initial qualification to close, using several key strategies:
Securing the Details: Gate checks established at each stage ensure that no deal is moved along without acquiring the necessary information about each client's specific needs. For an industrial service with many physical specifications to gather from each client — from the number of main processing equipment components to the square footage of the facility — this information collection is vitally important to understanding each individual sale.
Save the Date: Before moving a deal into the demo stage, Ndustrial's HubSpot pipeline prompts users to insert a date for the demo to take place. This is just one of many ways that the platform keeps Ndustrial's interacting teams — engineering/development, product management, and services — on the same page and in the same workflow for each prospect.
Connecting Key Decision Makers: Once a deal enters the contract/close process stage in Ndustrial's deal flow, the system requires users to verify that their custom "close process checklist" is completed. This allows users to affirm that all the key decision-makers are on the same page about Ndustrial's proposal before a final decision is made.
"We can sequence our sales process however we need at any given time," says Tipton. "You can cut, slice, and dice it in order to see what's most relevant on your screen. HubSpot makes sales easy to adapt to the specific needs of your business."
Implement HubSpot CRM With an Elite Partner
As a premier B2B growth solutions provider, Wendt Partners assists organizations that have a clear vision for their success — but could go further with access to the industry's most comprehensive CRM technology. With expertise across all five HubSpot hubs, we take full advantage of our Elite HubSpot Solutions status to initiate growth in your sales process and drive deal flow.
Schedule a meeting with Doug Wendt today to learn more about how we implement proven growth strategies for enterprises in your industry.