Our mission at Wendt Partners is to help our clients get the most out of the powerful sales resources HubSpot offers. To explore the ways in which a HubSpot-integrated CPQ solution can help to optimize your sales funnel, Wendt Partners Chief Growth Officer and co-founder Doug Wendt partnered with DealHub's Chief Revenue Officer, Eyal Orgil, for a webinar on September 22nd, 2022.
As the #1 CRM platform for B2B organizations, HubSpot helps teams leverage their customer data to maintain and strengthen their client relationships. "The whole philosophy behind HubSpot," says Wendt, "is to break down the barriers between sales, marketing, and service to create a fluid customer journey."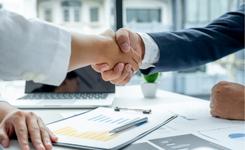 As a leading CPQ (configure, price, quote) solution, DealHub offers a unified platform for price quotes, contracts, and subscription management. It's built to integrate seamlessly with HubSpot to help users streamline the sales process using advanced automation features.
Over the course of the hour-long web event, Wendt and Orgil highlight the key features DealHub offers its B2B sales customers with a focus on the expanded functionality it brings to HubSpot users. Here are a few key takeaways from the conversation.
One Fluid Sales Motion
The goal of the DealHub CPQ solution is to create one place where stakeholders on both sides of the sales dynamic can collaborate and engage to streamline deals.
DealHub is a fully configurable system that simplifies the quoting process for even the most complex sales. "DealHub has the ability to give the salesperson one solution from start to finish," says Orgil, "one place they can go to for all the different stages of a deal."
The platform uses custom data points around pricing, quantities, and other intricate product details to automate efficient and accurate quote creation. "The system is set up with the right products in place, with the right pricing automatically based on whom you're selling to, what market you're in, what territory, etc.," explains Orgil.
The DealRoom
Once the details are assembled, DealHub generates an online proposal space called a DealRoom. This interface upends the traditional static proposal form, transforming it into a living collaborative workspace where edits are updated for all users in real-time. In addition to price quoting, the DealRoom also works as a contract and execution engine, allowing stakeholders to modify contract terms and record e-signatures in one place.
The DealRoom interface additionally serves as a marketing space, enabling users to include video material, clickable interactive product decks, customer testimonials, and other features that can enhance and inform a proposal. This capability differentiates and strengthens the user's product at the most crucial closing decision point.
As a white-labeled product, every DealRoom is customized to include branded graphics and logos that emulate any company aesthetic. "With DealHub, we're not having to choose between sophistication and attractiveness," says Wendt. "It's the Holy Grail – complex configuration capabilities married with an elegant user experience that's integrated with HubSpot."
HubSpot and DealHub: Fully Integrated
Users are able to access DealHub with only one click inside the HubSpot platform. As a cohesively integrated application, DealHub draws on the customer data within HubSpot to help automate the quoting process. Conversely, DealHub feeds customer data back into HubSpot when users fill out proposal forms.
"You're arming the salesperson with a tool that has the power of marketing, but all the components necessary to close the deal," says Wendt.
Conclusion
As an Elite HubSpot Solutions Partner, Wendt Partners is committed to helping their technical, industrial, and professional services clients optimize their sales and marketing processes. Our team offers onboarding and integration assistance with the DealHub CPQ software platform.
"Wendt Partners is the first HubSpot Elite partner who is also part of the DealHub partner ecosystem," says Wendt. "Not only are we thrilled to offer our customers DealHub support, but we're also a DealHub customer ourselves!"
Contact Wendt Partners through our website or by phone, and we'll show you how HubSpot and DealHub can streamline your sales process and help you close more deals faster.
Image Credit: iStock Photo