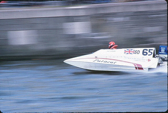 In an article today, The New York Times profiled the rising and falling fortunes of Ocean Village, a massive, brutalist multi-building housing complex in the Far Rockaways section of Queens. This massive eyesore was in sorry shape before Hurricane Sandy, and was nearly uninhabitable afterward. And yet, the day after the superstorm tore the neighborhood even further apart, a new owner signed the papers to purchase Ocean Village.

L+M Development Partners now plans to succeed where its predecessor, Ocean Village Associates, failed. Sophisticated plans for rehabilitating the exteriors of the buildings, refinishing apartments from the floorboards up, and repositioning the property for new tenants — all the while still meeting the needs of subsidized and rent-controlled tenants who currently live there — are all part of L+M's vision for the future of Ocean Village. The departing management team claimed that meeting all of these goals is impossible, citing the lack of revenue available for upgrades due in part to New York City's affordable housing program and its onerous requirements.

And yet L+M has built a reputation as being one of the few companies who can embrace, rather than fight against, the city's affordable housing program and at the same time dramatically improve the performance and market-rate attractiveness of properties. How? One reason may be the company's business model.
Managing to Double or Triple Bottom Lines
The Times points out that L+M CEO Ron Moelis describes the firm as a "double-bottom line" business, committed both to the long-suffering residents in the community, and to the investors backing the rehabilitation. While the Times article does not specifically discuss the business structure of L+M, one gets the sense that L+M operates as a Benefit Corporation in spirit, if not in legal actuality.
Legally speaking, thirteen states in the U.S. now officially recognize Benefit Corporations, and companies in any state can voluntarily structure their business along similar lines by certifying through programs such as B Corporation.
In short, these companies agree to measure and manage against multiple metrics, many of them following the triple bottom line philosophy of People, Planet and Profit (community impact, environmental impact and shareholder/investor impact). It is an outgrowth of the Corporate Social Responsibility movement, but is geared toward companies of all sizes and goes far beyond what some consider the "greenwashing" trend that makes CSR a questionable practice in the eyes of many.
That means that benefit corporations are finding investors, vendors, partners and customers who are willing to do business with them in part for non-economic reasons. And in case you're wondering if this trend could impact your old-fashioned, traditional C Corp., S Corp. or LLC in the marketplace, the answer is a resounding yes.
The reality is that companies who operate for more than just profit-making purposes have emerged as serious competitors in every corner of the market. Some are actual nonprofits, some are for-profit subsidiaries of non-profit parent organizations, and some are private companies operating under a double – or triple-bottom line model.
The Emergence of a New Kind of Company
What traditional business owners tend to forget is that these competitors know that they have to succeed under multiple criteria, and that often makes them more aggressive, more nimble and more efficient. In short, being less profit-driven can actually result in a leaner, meaner company.
In 2010, Alameda County, California decided to shift its contract for emergency medical services from American Medical Response, the nation's largest for-profit ambulance services company and the county's longstanding EMS provider in some form for more than 40 years, to Paramedics Plus, a much smaller but highly advanced competitor. The enormous, multi-million dollar contract went to Paramedics Plus for a host of reasons, but two of them were the new company's commitment to investing in new ambulances and updated patient care technology, and the firm's willingness to re-invest a greater percentage of its revenues back into the Alameda County system.
How could Paramedics Plus do this? The company, which has proven itself in cities across the nation as a cutting-edge EMS provider, is the for-profit subsidiary of a non-profit health system based in Texas. In short, Paramedics Plus operates under an aggressive for-profit competitive model, mixed with a non-profit model of reinvestment. It was a winning strategy that knocked a traditional incumbent out of the market.
And this trend doesn't just impact large companies and contracts, either. Many small fitness club operators in the last decade have struggled to compete as the market has become over-saturated and national chains have consolidated power — but also in no small part due to competition from YMCAs and other non-profit community institutions who invested heavily in upgrading their facilities and services to directly compete for the member dollar.
And companies like Ten Thousand Villages — a cheerful and unique chain of nearly fifty direct and affiliated retail stores that sell fair-trade crafts and gifts — are competing directly with Main Street retailers as well. Ten Thousand Villages is a 501(c)3 non-profit charitable organization, yet it has nothing in common with the ladies' auxiliary stores of old. Instead, the company deploys cutting-edge retailing strategies, comprehensive product planning and distribution, and a powerful online presence that competes successfully in an already-crowded market segment.
What Benefit Companies Offer That You Don't
What these stories prove is that whether you are in commercial real estate, government contracting, small business or mom-and-pop retail, your most nimble and advanced competition may come from an unlikely source: companies who operate on a non-profit or triple bottom line model.
From a strategic perspective, it's time for you to think carefully about what they offer that you may not: a clearly defined mission that can generate wide community support; a more creative approach to serving their customers; and perhaps a deeper sense of loyalty and support from employees and partners rooted in a clear and compelling brand promise.
As your business enters 2013, ask yourself what you can do to make your business better — and more successful — by heeding the lessons offered by these unique enterprises and their experiences in the marketplace. And keep an eye on their expansion and growth…because chances are they will soon be competing directly against you.
In the end, however, that could be a good thing for your business as well.
Image credit: BBaB on Flickr (Creative Commons)