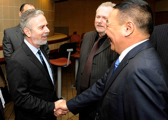 Companies looking to achieve significant change or growth goals recognize that outside consulting counsel is essential to their success. Enterprises whose CEOs elect to retain consulting counsel achieve more lasting results over a shorter timeframe, on average, than companies who attempt to drive change purely in-house. However, it is essential that you select the right B2B business consultant for your company. Here's how:

There are eight key factors you can examine which will help you align your selection process and find the best consulting resources to bring to bear. This article explores the first four, and our next article will discuss the second four. Begin with these four factors when selecting your next B2B business consultant:

1. Know Whether You Want a Strategic Expert or Functional Specialist
Companies generally consider all outside experts consultants, but in reality consulting comes in two 'flavors'. The first kind of consultant is the strategic consultant, whose expertise and approach focuses on strategic issues encompassing the entire company or large parts of it. This person or firm primarily advises you and empowers you to execute change. The second kind of consultant is a functional specialist who brings specific technical skills to the table, but operates more as an outsourced support resource in that there is less strategic advising and more tactical compliance and alignment.
Whereas the first kind of consultants tend to be CEOs and senior executives by background, examples of the latter include attorneys, CPAs, quality system experts, safety compliance advisors, human resource specialists, etc. These are two very different kinds of consulting, and you need to be clear about which kind you are looking for. In reality, the strategic consultant will often have a network of functional specialists on tap, but the reverse is not necessarily the case.
2. Choose Top-Line Focus or Bottom-Line Focus
Most firms that provide 'management consulting' are focused on managing the existing operations of your company, which means their central emphasis is on reducing bottom-line costs. Reducing expenses, improving operational efficiency, enhancing quality and throughput, improving the use of enterprise (ERP) software, and managing employee headcount and talent costs are all examples of components in a bottom-line focus.
In contrast, most firms that provide 'business' or 'growth' consulting are focused on building the top line of the company, which encompasses go-to-market strategies, new product or service introductions, positioning strategy, sales and marketing, customer relationship management (CRM), and more.
3. Make Sure that Consulting is Their Primary Service
Just about every professional services firm today states that they provide strategy and consulting services, so it can be extremely difficult to figure out who specifically focuses on providing consulting as a primary service, rather than a secondary 'also-ran' offering. For example, if you're looking for marketing consulting, generally it is better to hire a marketing consultant first, rather than hiring an advertising or marketing agency that also offers consulting on marketing strategy.
The reason is simple: Firms for whom consulting is not their primary source of revenue have a compelling need to identify every problem as one that their internal resources can solve. For example, an independent marketing consultant may conclude that your existing website can continue to be used, but that it may benefit from some enhancements, whereas a digital agency with 15 web developers on staff will almost undoubtedly advise you that you need a new website. Remember, everything looks like a nail to the person holding a hammer.
4. Look for an Integrated Approach Married with an Ability to Phase
Even when you've decided to hire a business consultant, it's easy to get sidetracked by functional specialists rather than identifying true strategic experts. Do you hire a sales trainer, brand strategist and marketing advisor to help you with top-line growth, or do you seek one expert firm who can develop and guide your strategy across all of those areas? The answer consistently is, go for the latter. The reason is simple: You need a consultant who can take charge and bring an integrated approach to the table -- one that mirrors your own responsibilities as CEO but offers additional expertise and knowledge. Your best bet is a firm that offers an integrated, strategic offering but that does so with the option of taking a step-by-step approach to change.
For example, at Wendt Partners we use our StrategyFirst Action Assessment process, exclusively focused on growth strategy and execution, with every client. But we allow CEOs to choose whether they want the full approach up-front, or if they would prefer to take it step-by-step across four focus areas: sales, marketing, strategy and leadership. This allows the CEO to take things at a reasonable pace, while still gaining the benefits of an integrated offering.

These four factors provide you with a solid framework for beginning your search for the right B2B business consultant to help drive growth or change in your business.

Image Credit: govza @ Flickr (Creative Commons)