Matthew Brady took charge in 2015 as the President and sole managing partner of BradyRenner CPAs, an accounting firm that operates out of Bowie, Maryland. Read on to learn his insight on the field, and the values that have led his team to tremendous growth and success.
Tell us a little about yourself — what placed you on your path to pursuing a career in this industry?
I don't profess to have had some grand, long-term plan from youth. My life and my career path have been a series of choosing what I thought was the next best thing right in front of me.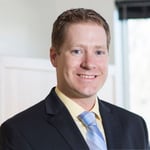 Baseball was my passion growing up, and I fortunately had the opportunity to play in college. I actually started at the United States Naval Academy, but realized quickly that the military path wasn't what I really wanted and left during Plebe Summer. Not wanting to delay my college education by another semester, I started three weeks later at Towson University and played baseball there. When the NCAA compliance officer told me right before my junior year that I had to have a declared major by the start of fall classes or I'd no longer be eligible to play, I chose accounting within that 90 second phone call. Obviously, there had been a bit of thought beforehand and financial concepts came easily to me — but that's all there was to it.
I ended up coming on full-time to the firm I interned with, left briefly to work as the Director of Finance for a private high school, and then got invited by one of the board members to be the controller and CFO for his construction firm. That was right before the 2008 real estate crash, so it wasn't a good time to be in the construction industry.Then Jim Renner and I partnered in 2009, and the rest is history!
Again, no real grand plan behind it all. Every time I was at some sort of crossroads, I took into prayer, talked to my wife, and did pros and cons to find the right decision — and here I am.
What are the visions and values that led you to found and build your organization?
The four values that we publicly advertise as the cornerstone of our firm is that we're active, available, approachable, and accountable. Underlying all of those is our serious commitment to putting our clients' needs first. We work with small businesses, and one thing I always remind them of is that not only am I a small business advisor, but I also run a scaling business myself. I understand a lot of the pains and struggles that a small business owner goes through — I know what it's like to lose sleep on a Thursday night because of those stressors.
As much as you'd like to, when you're a business owner, you don't just turn off at 5 o'clock. Your mind is constantly spinning, even at odd hours. So when you don't get a timely response from your partners, it can be frustrating. A lot of our clients find us after having a poor experience with another accounting firm, and one of the most consistent complaints that I hear is lack of responsiveness. I can't get my mind around clients not being able to get ahold of their accounts or to get a phone call back — I just don't understand that way of operating. BradyRenner is a highly responsive firm. Even if we don't have the exact answer at the moment, you will at least have the peace of mind that we are available and working to provide a solution.
What has been your biggest lesson about the B2B industry since becoming a CEO?
Firstly, your staff is the backbone of what you do. One of the most important lessons I've learned is to put their needs in front of my own and make sure that they're well-supported in whatever they need to be successful. I make sure that I'm giving them the tools and availability they need, because no success happens without good people.
Another lesson I've learned is along similar lines. I don't agree with the old saying that "no good deed goes unpunished." There's this perception that the good guy doesn't get ahead, and I couldn't disagree more. I've learned that if you consistently do the right thing, then for the most part, things are going to be fine. It's very important to me that when I put my head on the pillow at night, I know I've given my best effort to do the right thing for my clients. That includes all circumstances — when we screw up, we make it right. There have been times where that has cost us additional time and energy, and times where I could have communicated our side better. I take the approach of, "just own it."
These are principles that I've always believed in very strongly. What Wendt Partners helped with was not necessarily developing those principles, but articulating them and presenting them to the world.
How has your business and industry changed over the years you've led it, and what helps you maintain your core values from day to day?
I think there are a lot of factors that have changed in our industry that have affected everybody in business as well, technology being the big one that comes to mind. I got my first cell phone right as I was graduating college — and I've always been a little techie, so I was probably early on that. It was really the first couple years after I graduated that the cell phone exploded onto the scene.
The change in everyone's mobility has also changed the way we do business, especially the expectations for availability, even outside of business hours. As a business owner, you have to either be okay with adapting to that, or you have to take certain steps to manage those expectations with clients. I think that those boundaries were unspoken prior to the explosion of technology over the last 20 years, but now it has to be spelled out because you can be as available as you want to be.
We are now also able to accomplish so much more remotely. We can do more out of the office. Our industry used to involve a lot more of sending people onsite to businesses where all the books and records were — but now, all of that can be exchanged digitally.
While I don't think there's a substitute for being able to shake hands and talk in-person, it's all about finding a balance. We used to make the commute to meet with clients in-person every month, but now we meet once a quarter and conduct the rest on Zoom. We're finding a nice blend to increase efficiency, but not lose that personal touch completely.
---
Working with Wendt Partners
What led you to choose Wendt Partners to become your business growth solutions development resource?
It's an interesting story. In 2015, we began following the typical growth pattern of an accounting firm in addition to organic growth, which is acquiring another business. A CPA that was looking to retire sold us her books.
When I was initially doing my research and met with her, her business stood out to me as incredibly sophisticated, with an impressive website, marketing tools, and social media presence. In our initial discussions, I learned that her firm had been using Wendt Partners to achieve marketing growth.
We had been growing organically over the years, but this was the year that I took over as a managing partner and became the chief decision-maker. As I took those reins, I had a lot more autonomy to hire an outside consultant for help. We were spurred to choose Wendt Partners as well, and have been working with them ever since.
Describe one or two key outcomes from your work with Wendt Partners that provide particular value to your business.
The most obvious, black and white outcome of our work with Wendt Partners is that, from a revenue standpoint, we are three times the size that we were before. We've certainly experienced significant growth in a seven year period of time. While B2B growth is a little harder to break down and to quantify the exact dollar impact of any specific factor, all I know is that they've been a big part of our dramatic growth.
Following your partnership experience, how would you describe the value of Wendt Partners as a strategic resource to other CEOs?
I would say Wendt Partners' strength is the ability to truly establish a brand. They've helped us do a ton of client outreach and education to make us a go-to business here in the area. A lot of the ideas Wendt Partners brought to the table are things a CEO intuitively knows to implement — but left to my own devices, I'd never find the time to put those things into action. It was their ability to organize ideas, hold me accountable for the things that I needed to do, and take things off my plate when possible that got the firm where it needed to go. Wendt was the engine that pushed the whole process.
---
Insights for the future
What are some upcoming milestones or developments that your team is looking forward to implementing?
At this point, the next big milestone with the firm would be to make myself more and more irrelevant! We've been moving over the course of the years as a professional service provider whose revenue is generated by advice, time, and that kind of thing, and we're trying to get to the point where my role as CEO can really just be about running the organization.
Do you have any final nuggets of wisdom you'd like to share with fellow CEOs about growing a business in the B2B marketplace?
I have found that regardless of the industry, regardless of the kind of space that we operate in, all business comes down to people and putting people first — whether that may be staff, potential clients, or consultants, if you are invested in building relationships and putting others' needs before your own, I think the rest kind of takes care of itself.
I have also found that when the person on the other end knows that you're invested in the partnership, you're given a lot more benefit of the doubt if something goes sideways. We're all people, and nothing runs perfectly all the time. But when the relationship is strong, the communication is strong.
Interested in learning more about BradyRenner's journey with Wendt Partners? Check out our case study on this innovative firm.