Global customers, investors and workforces require competitive enterprises to understand and adapt to the complexities and nuances of international policy. For U.S. companies, one major area of consideration is immigration law, and its impact on potential investors, owners, employees and partners. We sat down with attorneys Tom Fadoul, Jr., a principal with Offit Kurman and Michael Lin a partner with Braverman & Lin, both of whom are recognized in the field, to discuss the essentials of immigration law for CEOs:
WP: How does immigration law impact businesses and CEOs?
TF & ML In today's 21st century economy, the major commodity for businesses is no longer capital-intensive investments like factories, mill works, or heavy equipment. It has been replaced by human capital. Companies that can best capture talented and exceptional workers, which often include non-US candidates, generally give themselves significant advantages over their competitors.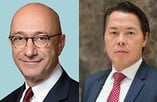 The price for tapping into this pool of non-U.S. candidates is that businesses and CEOs will need to have an effective corporate immigration policy to deal with the complexity and compliance related issues that are associated with sponsoring non-U.S. workers for visas. The policy involves both the mechanics (such as visa sponsorship, I-9 forms for identification, etc.) and other issues such as if, when and how a non-U.S. worker may request the company to begin the sponsorship for permanent residency (aka "green card").
WP: What should companies know about the greatest challenges they may face when recruiting non-U.S. candidates?
TF & ML U.S. immigration policy is designed for family unification and job protection. The immigration law sets an annual worldwide limit of 480,000 family-based green cards and 140,000 employment-based green cards per year. It also imposes a per-country limit in which no country can receive more than 7% of the total annual family-based and employment-based preference limits.
Besides limiting the number of employment-based immigrants, the immigration law imposes various mechanisms to prohibit businesses from importing cheap foreign labor to take jobs away from U.S. workers. This means that companies who are interested in recruiting non-U.S. candidates must be aware of various restrictions and obligations that the immigration law has imposed on the companies. Therefore, once a company has decided to sponsor a non-U.S. candidate for a visa, it must work with a qualified immigration lawyer to ensure that the company is, and will continue to be, in compliance with immigration law.
See additional discussion below for more specific information on highly specialized, skill-specific industries such as information technology.
WP: How can a company build and maintain a global workforce over time without running afoul of changes or challenges in U.S. immigration law?
TF & ML Immigration law allows a company to sponsor non-U.S. candidates to come to the U.S. on a temporary basis under various types of visas to work for the sponsoring company. These types of visas are called "nonimmigrant visas", which include E1/E2, H-1B, L-1, O-1, etc. This represents the short-term solution for the sponsoring company.

Once a non-U.S. candidate begins his/her employment, the company may consider sponsoring the non-U.S. worker for a green card (permanent basis) through employment sponsorship. The nonimmigrant visa would permit the non-U.S. worker to work for the sponsoring company on a short term basis (temporary basis), while the sponsoring company may simultaneously undertake green card sponsorship to secure the non-U.S. worker's authority to work permanently.

Green card sponsorship represents the long-term solution for the company. It sometimes can be done without labor certification screening (known as the PERM process) for higher-level employees. Managers and executives of multi-national corporations may qualify for green card sponsorship without going through the PERM process. Foreign nationals with extraordinary ability in their fields of endeavors, outstanding professors/scientists, or individuals whose contributions to the United States may be national in scope may possibly also waive the PERM process. Individuals who do not qualify for any of the categories as mentioned above will have to pursue employment-based sponsorship with the accompanying PERM process involving public notification, offering the job first to U.S. citizens and permanent residents.

Each visa category carries its own set of requirements and compliance related issues. It goes without saying that developing an effective immigration policy that oversees your company's I-9 identification, work authorization/anti-discrimination compliance and sponsorship related issues would pave the way for your company to address any immigration related questions that a prospective non-U.S. candidate may have about your company's attitude towards immigration sponsorship, which often is a major factor in his/her decision to work for your company.
WP: What is one key piece of strategic advice you would recommend to CEOs as they seek to stay abreast of key changes in immigration policy that can impact their workforce?
TF & ML The discussion about immigration reform has been going on for the past 15 years and any new discussion about possible immigration reform or benefits remains exactly that – mere discussion. Besides the lack of movement on the key proposed changes in immigration policy, federal courts and the Department of Homeland Security (DHS) continue to rule on issues at a microscopic level, which may be important to employers.
For instance, recently DHS has ruled that an H-1B employer must file an amended petition with the DHS if an H-1B worker changes his or her jobsite. Sadly, this effectively overruled the agency's prior policy position where it said the amended petition was not required. The only way for your company to keep abreast of these changes is by having an immigration lawyer close at hand and conferring with him or her regularly, just so that your company can be kept up to date with these modifications.
WP: What are related key points that a company must follow when hiring a worker?
TF & ML The first rule is that your company must not inquire into a candidate's national origin, citizenship or immigration status. Any such inquiry is a direct violation of the Immigration Reform and Control Act of 1986, for which there are severe sanctions. Also, as a good practice, you should include a contingency clause in your offer letter to have the employment offer contingent upon valid immigration status and employment authorization.
By law, the candidate must complete Section 1 of Form I-9 no later than the first day of the employment and your company must complete Section 2 of Form I-9 no later than the third day of the employment. Because the immigration law provides a list of the acceptable documents for an employee to establish identity and employment authorization, under no circumstances can your company suggest what documentation to provide. If at the time of the completion of the Section 1 of Form I-9 you have learned from the candidate that s/he does not have valid employment authorization to work, your company must not put the non-U.S. worker to work. You should consult with an immigration lawyer about the sufficiency of the documentation provided by your employee before notifying the employee of the company's decision.
WP: What are the common types of visas that would allow a non-U.S. worker to work for your company?
TF & ML The nonimmigrant visas for U.S. immigration law are arranged in alphabetical order, starting with A and down to V visas. The types of visas that may most likely apply to your company are: E1/E2, F-1, J-1, H-1B, L-1, O-1, etc., and we will provide a general description of each major visa below. Note that each visa has its own restrictions and requirements.

E1/E2: E-1 is a treaty trader visa and E-2 is a treaty investor visa. If your company is owned at least 50% by a foreign national whose country has a treaty with the U.S., your company may have a chance to bring an employee who has the same nationality to the U.S..

F-1: F-1 is a foreign student visa. A foreign student may possibly obtain an employment authorization called Optional Practical Training (OPT) at the conclusion of the study. OPT is normally valid for 12 months. Students with STEM degrees (Science, Technology, Engineering, or Mathematics) may be eligible for an OPT extension of 17 more months for a total of 29 months. The OPT permits the foreign student to work only in an area that is related to his/her study.

J-1: J-1 is a visa that allows a professional to come to the U.S. for a cultural exchange or professional training program. An "Au Pair" is a well-known example of the J-1 program. The J-1 program, however, is not limited to just Au Pairs. Your company may bring a non-U.S. person to the U.S. to be trained under the J-1 program. Keep in mind that most J-1 programs impose a two year foreign residence requirement on foreign nationals who enter the U.S. under the J-1. At the conclusion of the training, J-1 exchange visitors must in most cases return to their home country and remain there for two years before they are eligible for a green card or H-1B/L-1 visa. The purpose of this law is to encourage the J-1 visitors to contribute what they have learned in the U.S. to their home country.

H-1B: H-1B is a visa for a non-U.S. worker to work for your company in a specialty occupation. Specialty occupation is defined as a job that requires at a minimum a bachelor's level education in a specialized field of study. A typical H-1B job would be a civil engineer, accountant, financial analyst, computer software engineer, etc. As you can see, these jobs normally would require someone to have a bachelor's degree in a field that is related to the position. If a job requires a bachelor's degree in just any field, then the position may not qualify for H-1B visa status.

The immigration law imposes an annual quota of 65,000 H-1B visas and an additional 20,000 H-1B visas for graduates of U.S. earned masters' degrees, for a total of 85,000 H-1B visas per year. Unfortunately, the demand for H-1B visas well exceeds the quota. For instance, for the upcoming fiscal year of 2016, the DHS received over 240,000 visa petitions within the first week of accepting the petitions. Companies who are interested in sponsoring non-U.S. employees for H-1B must confer with an experienced immigration lawyer regarding any possible options if their H-1B visa petitions are not selected by the DHS for processing. Finally, note that individuals working for, or on a project for institutions of higher education, nonprofit research or governmental research organizations are not subject to the quota restriction.

L-1: L-1 visa is for an intracompany transferee. The basis for L-1 is for you to transfer one or more of your employees from your specially affiliated overseas company to come to the U.S. to work. If your company is not a qualified multinational company, this visa is not available.

O-1: O-1 visa is for someone who is internationally renowned in his/her field of endeavor. If your company would like to hire someone of this caliber, your company may sponsor that person under the O-1 visa. The O-1 visa is valid for 3 years and may be extended 1 year at a time thereafter.

For a complete list of U.S. visas, please visit the U.S. Department of State travel page to learn more.
WP: What is E-Verify and what should CEOs know about it?
TF & ML U.S. law requires companies to employ only individuals who may legally work in the United States – either U.S. citizens, or foreign citizens who have the necessary authorization. Your company is required to maintain I-9 records for all employees you hire. DHS has also implemented an optional program called E-Verify, in which your company may participate.
E-Verify is an Internet-based system that compares information from an employee's Form I-9, Employment Eligibility Verification, to data from the U.S. Department of Homeland Security and Social Security Administration records to confirm employment eligibility. Certain employers, such as federal contractors, are required to participate in E-Verify.
WP: What are some key points that my company should follow when conducting a job interview?
TF & ML: The most important issue is to avoid discrimination of any kind. We will offer you a few tips here:
1. In most situations, your company should never ask about an applicant's citizenship or immigration status. In general an applicant may not need to be a U.S. citizen or even be a lawful permanent resident (have a "green card") to be authorized to work in the United States.

2. Your company may ask if the applicant may legally work in the United States and if s/he can provide proof of such on hire. If this question is asked verbally, the company must ask every applicant the same question in the same manner. Perhaps the best way to address this issue is to simply ensure that this question is on the company's written application for employment, and that the application is fully completed in all instances.

3. Your company may not ask the applicant to provide work authorization documents until after hiring.

4. Even if an applicant discloses that he or she has temporary work authorization, your company must not ask him or her about the duration of the authorization or discuss it any further.

5. If a candidate requests that the company sponsor him or her for work authorization during the interview, the interviewer should explain the company's uniform policy on sponsorship (once again, the need to have an effective corporate immigration policy is clear). If sponsorship is an option for that particular job position, the interviewer should probably simply state that if the candidate were selected for the position, Human Resources (or other specified personnel) would discuss sponsorship further with him or her.
For more information, you may visit the Department of Justice website to review the law and what may constitute a violation of it: https://www.justice.gov/crt/about/osc/.
WP: If a company has workers with H-1B status and we are currently pursuing green card sponsorships for the workers, what effect on these immigration sponsorships, if any, is there if our company merges with another company?
TF & ML DHS policy with respect to merger and acquisition (M&A) is that if your company will maintain its FEIN and that there will be no changes to the terms and conditions of the employment of the affected foreign workers, your company will generally not need to do anything since there is no material change.

However, if your company will change its FEIN, this gets a bit complicated. For those employees under H-1B, if there is a change of FEIN, but the terms and conditions, including salary, jobsite, etc. of the employment remains the same, the successor in interest company must execute a notarized statement to list all of the affected labor condition application (LCA) case numbers and assume all of the responsibilities and obligations of the LCAs before moving the affected H-1B employees to the successor in interest company.

Finally, if the changes extend beyond FEIN, such as change of jobsite, position duties and responsibilities, etc., the successor in interest company must file an amended petition with the DHS before moving the affected H-1B employees to the successor in interest company. The effect of the merger/acquisition on the green card sponsorship could mean that the successor in interest company may have to re-do the entire sponsorship.

In a nutshell, your company generally must carefully evaluate the effects of merger and acquisition on existing immigration case work as part of your company's overall evaluation process for a potential merger/acquisition deal.
WP: Should my company invest the time and effort to establish a formal corporate immigration policy?
TF & ML: To ensure effective operation and avoid possible uneven treatment of employees for which there are severe sanctions, your company must develop a corporate immigration policy that addresses the following issues, among others:
Establish a training plan in place to train HR employees to handle I-9 record-keeping and the questions that interviewers may or may not ask during the interview process. This is vitally important as this is aimed to reduce the risk of discrimination.
Establish a regular self-audit/review policy on I-9 record-keeping.
Create a tickler system to keep track of upcoming deadlines on I-9 re-verification dates and foreign workers' immigration visa expiration (for employees under immigration authorization).
Develop and include a corporate policy as to whether the company will sponsor its employees for a green card; and, if so, the procedures that the employees must go through to make such a request.
Note: None of the information contained herein is intended, nor should be construed, as legal advice. This discussion merely attempts to identify only some of the issues for which you should seek the full professional advice and counsel of a qualified immigration lawyer.
Header Image: Tom Fadoul, Jr., Esq. (left) and Michael Lin, Esq. (right)