As a growth-driven B2B enterprise seeking out a CRM platform that has the tools and capabilities to scale with your operations and meet your advanced needs, you'll undoubtedly notice a fair bit of support, and even pressure, to select Salesforce.
But times are changing — and Salesforce is far from being the only option for cloud-based expansion and growth. HubSpot has long been Salesforce's main competition, and more and more teams are discovering why this alternative software has been ranked the #1 enterprise CRM for B2B enterprises.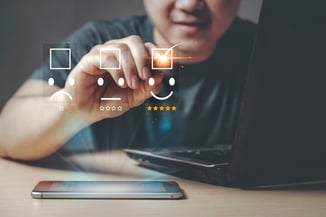 Welcome to the first article in a series discussing how HubSpot's powerful integrations and technology partners make the migration from Salesforce to HubSpot easier for results-oriented B2B enterprises. This article will set the stage for the rest of the series by providing specific evidence and examples to answer the fundamental question: Is HubSpot CRM powerful enough to replace Salesforce?
Salesforce Vs. HubSpot CRM: Notorious Inefficiencies Vs. Premier Solutions
As we delve into the CRM question of the hour, it would be helpful to keep in mind some of the top concerns that B2B enterprises consider when contemplating whether to ultimately make the jump and migrate from Salesforce to HubSpot.
The decision to find a suitable replacement for the world's largest cloud-based CRM doesn't come out of nowhere. While Salesforce has been on the scene the longest, that doesn't necessarily make it the best choice for your organization. In fact, Salesforce has consistently proven to be ineffective the more the organization has grown over time. Unaddressed technology limitations and an over-reliance on legacy systems have resulted in a problematic product strategy: the average user needs several to over a dozen non-native products from Salesforce AppExchange to reach a semblance of a functioning build.
HubSpot, on the other hand, is committed to operating on one user interface, one code base, and one mission: to create a system that unites software, education, and community for a positive and consciously-crafted customer experience. This platform is a truly enterprise-class solution that scales with you, enhancing and expediting your growth instead of dragging you down.
Meeting the Modern B2B Enterprise's CRM Requirements
Comparisons between HubSpot CRM and Salesforce, based on platform history and user experience, reveal clear differences in how each company operates. As one of the only Elite HubSpot Solutions Partners in the country, Wendt Partners has heard directly from users and teams completing their migrations, and can confirm that HubSpot's robust capabilities are absolutely powerful enough to replace — and outperform — Salesforce for your organization.
HubSpot's clear product strategy and cutting-edge advantages open doors for your team to be able to:
Unify Across Departments: From your marketing team to account executives interacting with clients, everyone in your organization sees the same view of the HubSpot platform and has the same user experience. HubSpot is also natively available in twelve languages and includes add-on features to support multi-currency environments and other differentiators.

Craft Advanced Solutions, Natively: HubSpot is committed to relying as much as possible on no-code and low-code native functions — including creating and managing custom fields, custom objects, and custom functions in the system, as well as user interface customization and CRM extension cards. No more trying to connect separate, re-labeled products masquerading as one.

Support Your Build: HubSpot's advanced reporting measures are housed on the platform's native engine, and connect to separate dashboard software and cloud data platforms when necessary to unite HubSpot and non-HubSpot data sources for an accurate picture of your performance and analytics. When combined with unparalleled integration and IT support capabilities, HubSpot can be extended to meet a full range of business requirements.

Enable Next-Level Integrations: The HubSpot Ecosystem is the premier resource for integrating the platform with your team and your tech stack while maintaining the same user interface and user experience you know and love. HubSpot also allows access to the strongest open API for custom integrations and middleware-based solutions.

These advantages are only the beginning — to read up on the powerful solutions HubSpot provides as a superior alternative to Salesforce, download our comprehensive migration guide.

Optimizing Your HubSpot CRM Experience
Once you've made the decision to choose the leading B2B enterprise CRM, it's time to find a partner that can help you implement HubSpot for yourself. Wendt Partners is proud to house a team equipped with the sales, marketing, and operations expertise needed to create the most expansive experience on HubSpot possible for your growing business.
How do we turn the limitless possibilities for your HubSpot CRM configurations into clear, actionable steps that you can take to reach your goals? Our six unique, flexible HubSpot consulting solutions are designed to structure our partnership in the most advantageous way for your whole enterprise, from sales and marketing to internal operations:
HubSpot PEA (Portal Enterprise Architecture™)

HubSpot PTP (Portal Technology Planning™)

HubSpot PST (Portal Success Training™)

HubSpot PPA (Portal Progress Assessment™)

HubSpot POP (Portal Optimization Partnership™)
HubSpot POA (Portal Outsourced Administrator™)
A Powerful Partnership for Your CRM Evolution
Wendt Partners is excited to be at the forefront of a movement that is taking B2B organizations to new heights with the world's leading CRM. Visit our site or give us a call and book a timeslot with a HubSpot specialist to discuss how the platform's powerful capabilities can be applied to your organization as you complete your Salesforce to HubSpot migration.

Don't miss our next article, which will focus on one of HubSpot's most powerful technology partners — DealHub — and explore the ways that this tool enhances and strengthens your enterprise's CPQ capabilities beyond the limitations of Salesforce CPQ.